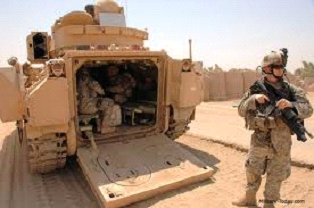 INDUS developed a novel seat assembly starting with an SBIR award. Utilizing thin-walled aluminum
extrusions, high strength MIG-welds an exceptionally high stiffness and high strength seat frame
structure was developed. LATTICELL energy absorbers, "break-away" V-Plate and an articulating
foot rest formed the core elements of the blast energy management needed to safely accelerate the
seat and the occupant vertically upwards and to withstand the subsequent impact with the ground.
Using extensive blast simulations with validated crash dummy models, the seat assembly was
evolved to meet upto 350g blasts for a range of occupants – from 5th percentile female to 95th
percentile male with and without battlefield gear. It was shown that the seat assembly was capable
of offset blasts as well, wherein the blast was not located directly beneath the seated soldier. The
entire seat assembly, including a 5-point seat belt, seat foam paddings and the foot-rest, is less than 60 lbs.